Welcome to a section we thought it might be interesting.
Basically both me and dom will be thinking about what we hope to see in the future being done as figures. It can be anything, a Nendoroid, a PVC scaled figure, and it could be any characters that has not appeared in the market yet.
Thus we will try praying to Godma of Figures, and we will see if any of our wishes come true.
Wendy: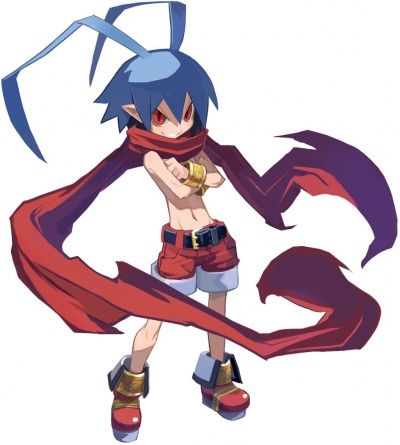 Well I'm really glad Nendoroid Etha and Flonne from Disgaea was not cancelled, but greedy enough, I would like Laharl to join them! It's simply not complete without Laharl, period. Actually, Laharl in any forms would be interesting. I'm never a fan of figmas so no figmas please! It will be nice to have a scaled Laharl standing with my Nendoroid Ethna and Flonne in future!
Dom:
I'm the same as Wendy I suppose, knowing what I already want since way before. Now, before I reveal what it is, let me just say that I would definitely prefer it if Alter did this one. I can't think of any other manufacturer who would put in as much effort into the details. Now, the character I would love for them to convert into a figurine would be Drag-on Dragoon 3/Drakengard 3's " Zero". That flower in the eye was the first one that caught my attention. The next being the armor(?) with all its little intricate details. If this actually gets made, you can bet on it that I'd be one of the first few in the queue!
Dear Godma of Figures. Heed my call!
With this, we would also like to make a sad announcement that Giselle has decided to withdraw from this blog to concentrate on her work. It was fun while it lasted, and thankfully things ended up quite nicely. With that, we are looking for contributors, do drop us an email if you are interested, maybe we can work things out.
photo credits: Disgaea Wiki and Siliconea
I'm pretty much behind every email that you receive from ToyCoin. Started figure collecting in 2009. Initially wanted to start a hobby with my boyfriend (who is concurrently my husband) and found out that he's a collector of all sorts. I figured I need to start collecting something too, and into the world of Nendoroids I dive. I love pretty things and I find figurines really attractive. Regardless of anime as long as the figure is attractive I'm drawn to it. It's like a natural reaction to me.

I also blog most of the stuff here, along with my editor Jerry and my photographer Keith. 🙂