I love this figure! It's as though most of the pretty figures I like are Saber related. That's very unfair of me isn't it? I love this figure as much as I love the Saber Lily Dress Code by Alter!
I know there are Saber fans out there who would argue that Saber was not supposed to be busty. I don't really care about it as long as the figure is beautiful as it is. Like I've mentioned before, it's like an art to me. People like to decorate their houses with posters, I like to decorate it with beautiful figures. :3 Preferences has no right or wrong.
Alphamax did a very good job with her details.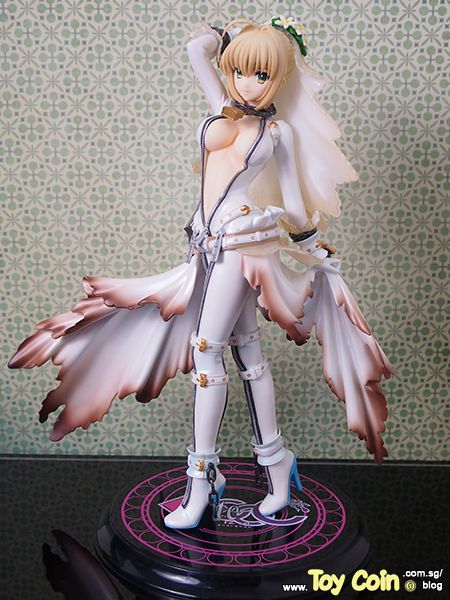 Fabulous isn't she?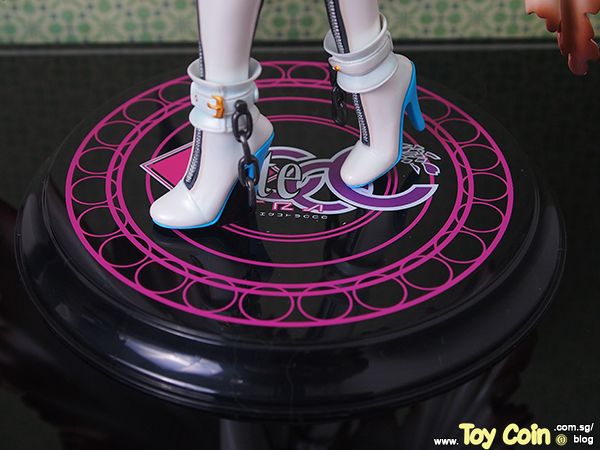 Simple base for the bride, nothing fancy.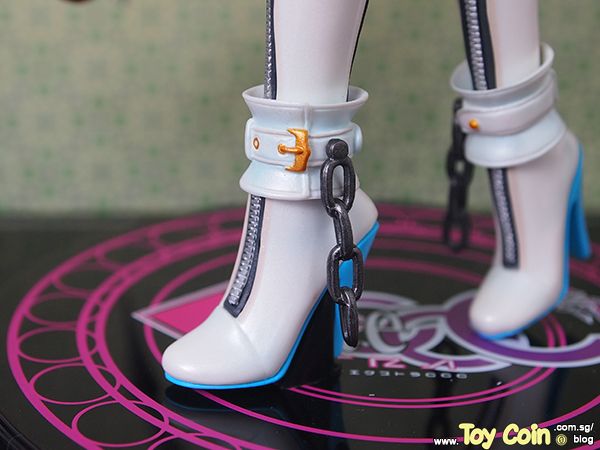 Oh but will you look at those chains and zipper teeth? They look lifelike! Let's not forget that the paint job here is immaculate.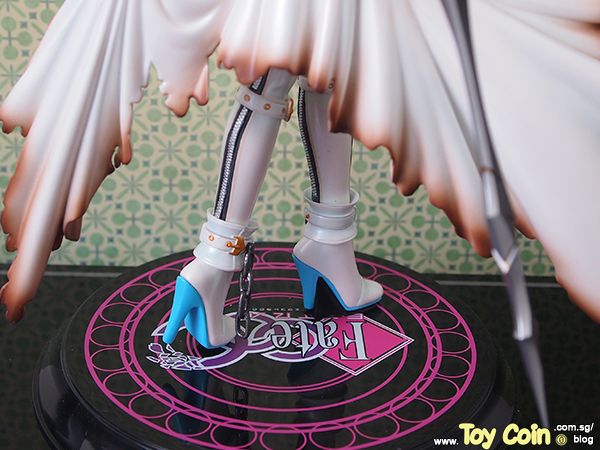 The choice of colour for her boot's sole is questionable. Sky blue? Seriously? When she's mostly covered in white and black, sky blue out of no where comes unexpected.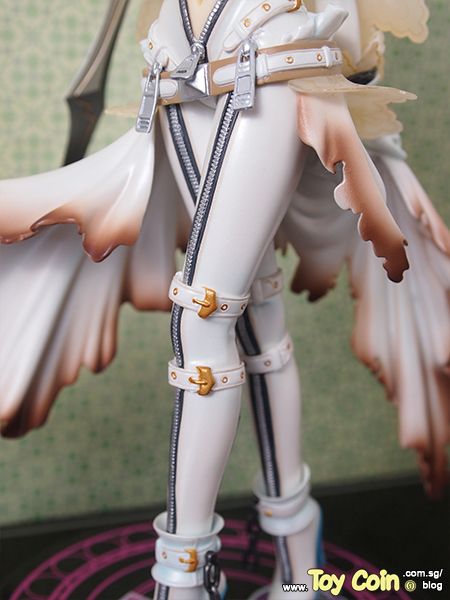 The zip actually runs all the way from her hips to her feet. It look so tight no wonder she decided to unzip her top. The pull tap looks humongous lol! It's almost the same size as her hands! Are trying to drop us a few hints?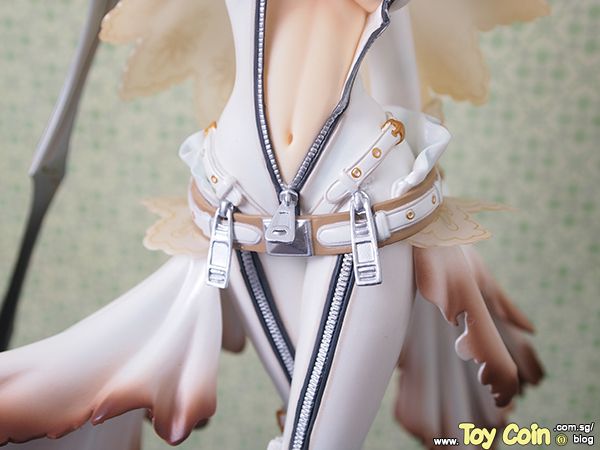 Revealing the belly button is such a tasteful choice.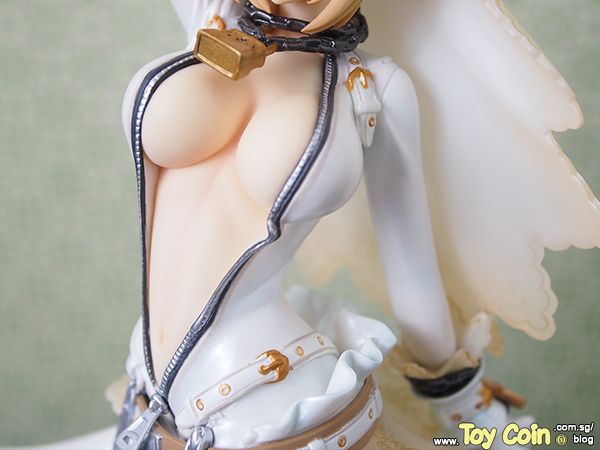 Let's not even talk about her bust, they usually look the same on every figure. LOOK AT THE FOLDS OF THE ZIPPER TEETH. Such details are taken into consideration! I'm impressed!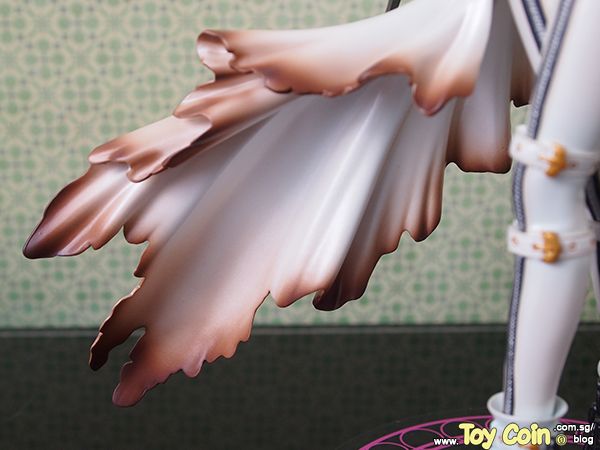 I liked the idea of being a chained bride. After all marriage is for life, yes? :3
Beautiful details on the veil.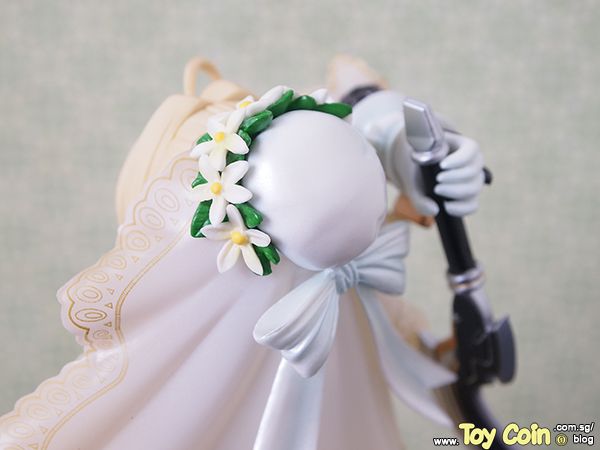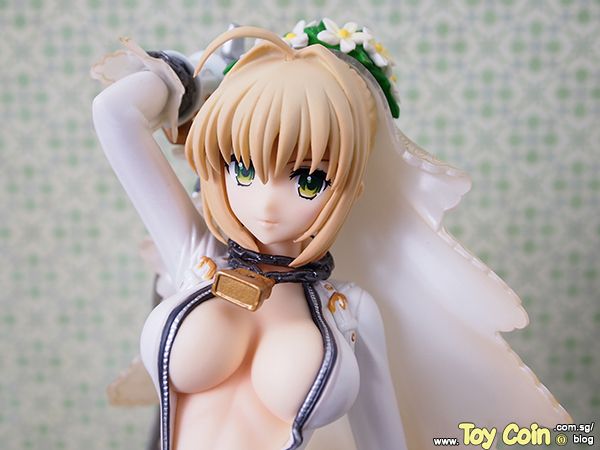 Alphamax nailed her look. I have no complains.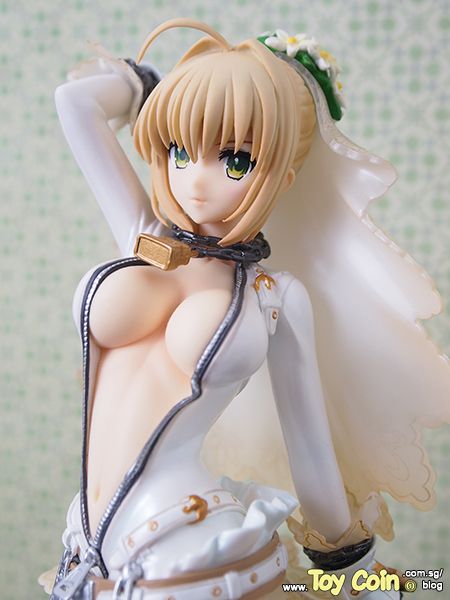 We are out of stock for her! We should expect that too because she's too pretty to miss up the preorders. I bet the prices will sky rocket soon. The paint job was spot on, details were perfect and her pose was dynamic enough. I forgot to take a picture of her sword!! I'm sorry!! Looking at the photos I took, I felt that I have a lot to improve on. I'll focus more for the next round of photo shoot. 🙁
Oh well, I hope you enjoy looking at her like I did! Till next figure!
I'm pretty much behind every email that you receive from ToyCoin. Started figure collecting in 2009. Initially wanted to start a hobby with my boyfriend (who is concurrently my husband) and found out that he's a collector of all sorts. I figured I need to start collecting something too, and into the world of Nendoroids I dive. I love pretty things and I find figurines really attractive. Regardless of anime as long as the figure is attractive I'm drawn to it. It's like a natural reaction to me.

I also blog most of the stuff here, along with my editor Jerry and my photographer Keith. 🙂